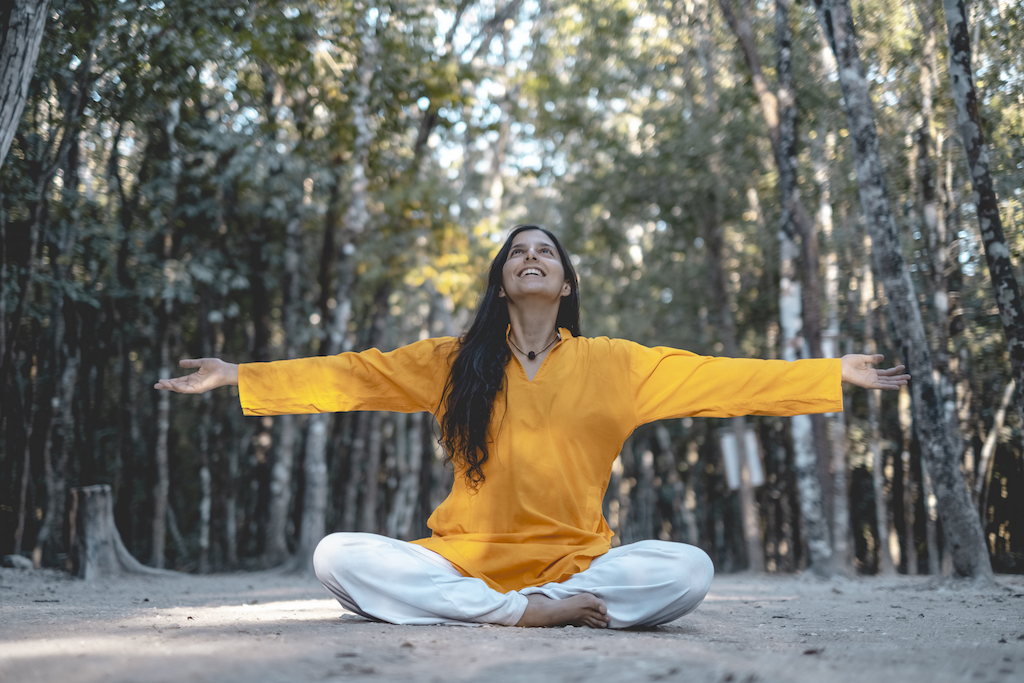 Awaken Your Fearless Heart Yoga Retreat
8 days and 7 nights in the mystic Mexican Riviera Maya… Saturday, March 27th to Saturday, April 3rd.

---

Courage is a resource that is always available to all of us. We only need the right tools to access it, and in this retreat, you will learn how to AWAKEN YOUR FEARLESS HEART

After experiencing this internal and external global whirlwind, allow yourself to integrate all the revealed teachings and find the perfect space for a mental space cleanse and for an energetic renovation.
Fear lives in all of us, in different forms and grades, and it manifests like anxiety, insecurity, shyness, fear, phobia, or panic.
By our own experience, we know what shakes our peace and harmony off, what empties our energy reserve and weakens our determination. From a Yogic perspective, fear is blocking the experience of our infinite and true potential. The good news is that it can be transformed and it can even be completely uprooted!
We invite you to join us, to retreat in nature, and take a pause from the rhythm of daily life to connect to the inner silence and to rest in your true essence.
Transform your internal weaknesses into the maximum state of trust when you submerge yourself in the yoga paths, in meditation studies, and daily practices, all of these while you have enough free time to relax and recharge your internal battery. Discover the Mexican Riviera Maya and its essential spiritual heritage. Transform your fears into infinite courage while meditating in the middle of a mystic private cenote in a natural sanctuary, or let your heart expand during a sunrise meditation on a sacred Mayan pyramid.
We feel blessed to transmit these powerful, transformative, and uplifting teachings that will give us the courage to face with confidence all different life experiences.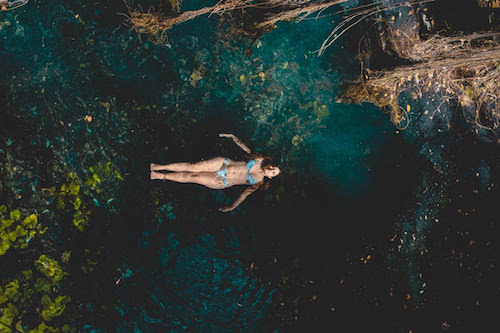 ---
What is a Yoga retreat?
A yoga retreat is a temporary personal and intimate time from daily life distractions to deepen into the different aspects of the practice and to purposefully offer adequate conditions to promote a connection with nature and oneself.
---
Who can participate in the retreat?

No experience is required. All levels are welcome!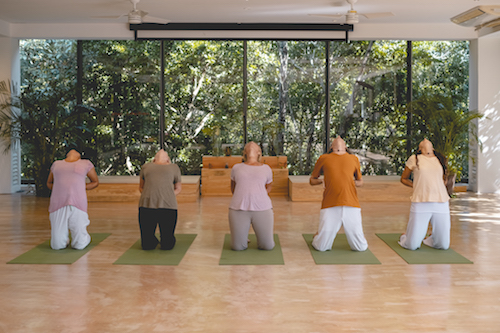 ---
This retreat is for you if you want to:
Learn the art of developing a heart free of fears.

Overcome stress and anxiety.

Deepen your meditation and yoga practice. 

Relax and recharge your inner energetic batteries.

Submerge in the beauty of the mystic Mexican Riviera Maya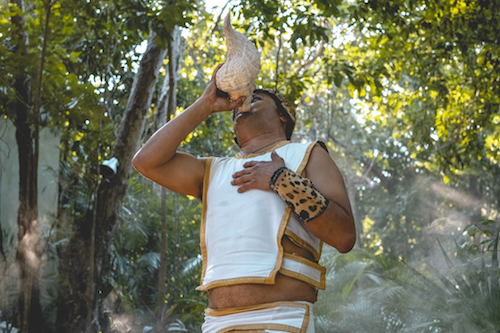 ---
What is included?

Full immersion in the retreat with classes, workshops, and daily practices about the causes of fear and ways of overcoming it.

1-2 daily yoga classes.

1-2 daily Satsang sessions (with meditation, mantra chanting, and spiritual teachings).

1-2 silent walk meditations.

A visit to a sacred Mayan pyramid with a sunrise meditation. (Cobá Pyramid)

A visit and meditation to a secret and hidden mystic cenote.

Pilgrimage to the Caribbean sea.

1 Temazcal session (Traditional Mayan sweatlodge).

7 nights with accommodation, private rooms with bathroom.

Local, healthy, and delicious plant-based meals.

Use of all stay amenities and unlimited use of the private cenote of the property where the retreat will be hosted.
*Optional services will be offered like holistic therapy sessions and massages; snorkel excursions or cenote diving 
*Airfare tickets are not included 
*Airport shuttle is not included. Let us know if you would like to help with your transportation arrangements from and to the airport.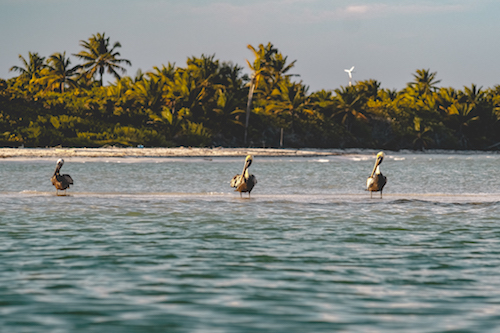 ---
Schedule*

Saturday 27th
2:00pm: Check-in

4:30pm: Yoga

6.00pm: Dinner

7:30 pm: Satsang – retreat opening
Sunday 28th to Friday 2nd 
7:00 am: Satsang (meditation, kirtan/mantras chanting, and spiritual teaching)

8:00 am: Yoga

10:00 am Brunch

11:00 am: Free time/karma yoga is optional (selfless service)

12:00 m: Conference or workshop 

2:00 pm: Break: recharge and relax 

4:30 pm: Optional yoga practice 

6:00pm: Dinner

7:30 pm: Satsang (Meditation, mantras, and spiritual teachings)
Saturday 3rd
6:00 am: Satsang: Special closing ceremony

8:00 am: Yoga

10:00 am: Brunch 

12:00 m: Check out 
*Subject to change.
*The daily activity schedule will be announced daily during morning Satsang.
*Be aware of the check-in and check-out times before you buy your airfare tickets. (The location is 1.5 hrs away from Cancun International Airport)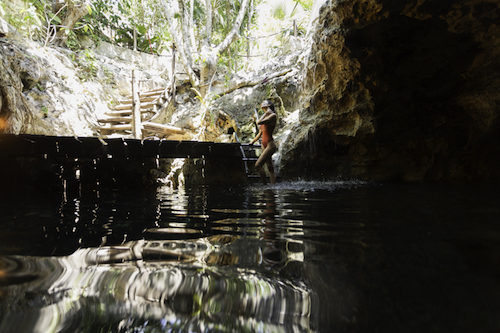 ---
Location and accommodations

Our retreat will be held at the wonderful Posada de Agua y Fuego, a precious place in the heart of a dense and sacred jungle. This place is a hidden gem in the Chemuyil region, an ideal place to connect with your body, mind, spirit, and nature. At this place you can find:
Yoga room with the Mayan jungle view 

Outside pools

Private cenote 

Temazcal

Comfortable rooms with AC

Relaxing areas

Massage area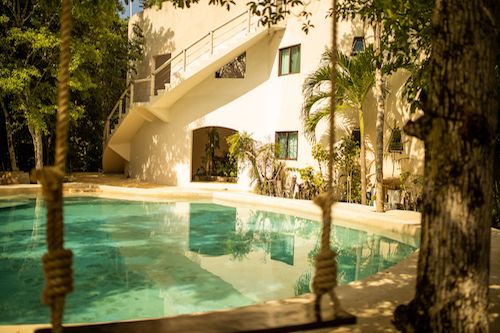 ---
Shared accommodation (2 people) or individual

For bio-security reasons, the maximum occupation for accommodation will be 2 people per room. Rooms are beautiful, spacious, bright, and comfortable. Each room has its own bathroom. Couples will be accommodated in the same room. If you come by yourself, you will share the room with a person of the same gender.
You can also choose to have private accommodation.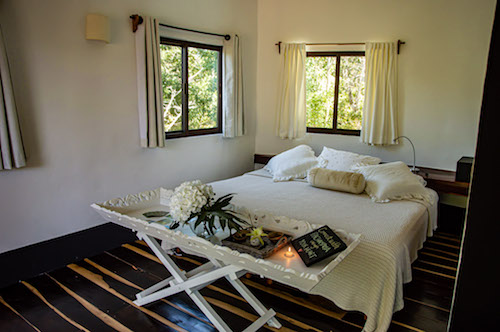 ---
Cost
Single room: USD 1850 per person
The price of an individual room with a private bathroom is USD 1850 with everything included. A USD 500 deposit is required. The rest of the amount will be paid one week before you arrive at the retreat (via PayPal) 
If you would like to participate, please contact us:  info@satyarupa.yoga
Or
WhatsApp doing click here
+52 9842802435 
Double (shared) room: USD 1550 per person
The price of a shared room with a private bathroom is USD 1550 with everything included. A USD 500 deposit is required. The rest of the amount will be paid one week before you arrive at the retreat (via PayPal)
If you would like to participate, please contact us:  info@satyarupa.yoga
Or
WhatsApp doing click here
+52 9842802435 
---
Cancellation policy
The deposit is non-refundable.
The payments are not cumulative nor transferable.
In case of a mandated lockdown from the Mexican authorities, the retreat will be postponed.
---
Observations
Airfare and land transportation to the retreat is not included.

We will start with a yoga practice at 4:30 pm on the arrival day.

We will finish at noon on the last day. 

The retreat is in English.

While in the retreat, guests are invited to join and follow a yogic diet (no alcoholic drinks, no meat, no smoking).



---
Yoga retreat hosts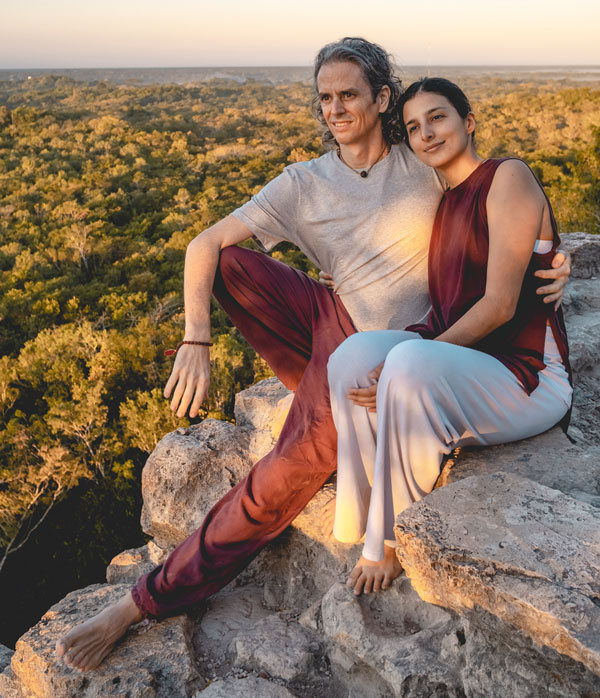 We are Satyadev and Satyabhama, two long time yoga practitioners. Furthermore, we are teachers dedicated to sharing the received teachings with all humans around the world. We have a personal commitment to help enlight each person's light, to allow ourselves an evolution to a world vibrating with the highest frequency of light and infinite love.
We dedicate our lives to connecting hearts and sharing the valuable teachings that have given us a lot of internal enrichment. We want to accompany you on your spiritual path! We pray that by applying what has been learned, you can achieve your maximum potential in this same birth.
We will love to welcome you to our beloved Mexican land ♡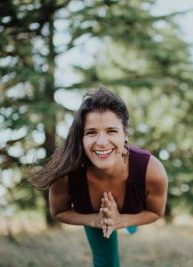 OM OM! We are very excited to announce that our friend Nickole from Ayurvedic and Yogic classes with Nickole Thornton Gonzales will be co-hosting this Yoga, Ayurveda, Meditation Retreat in Mexico. She will be teaching some Ayurveda Classes and providing massage and Ayurvedic Consultations.
Nickole is a Certified Ayurvedic Practitioner for eighteen years, Certified Massage Therapist, Yoga Instructor, and Ritual Facilitator. She graduated under the teachings of Dr. Vasant Lad at The Ayurvedic Institute where she was employed in the Panchakarma department for eight years.
Looking forward to seeing you soon!!
---
What are the existent security measures for Covid-19?
The participation in this retreat is completely voluntary, and we will like to invite you if you only feel comfortable and safe to travel.
The Riviera Maya has never closed its borders, but all biosecurity measures have been applied to travelers and tourists.
There are local awareness and lots of protection in the area and we can assure you that keeping you healthy and safe is our priority.
Because of this, we will take care of ourselves during all moments:
Periodic temperature checks.

The space is equipped with all the capacity to keep the space clean, sanitized, and safe.

Space between mats of 1.5 meters.

Access to antibacterial gel 24/7.

Face cover use during land travel.

Respect, love, and consciousness among participants.

Most importantly: an abundance of fresh air and a healing nature.
---
What do I need to bring?
Comfortable clothes, yoga mat, meditation cushion, meditation blanket, personal hygiene items, clothes for warm weather and cool nights, clothes for rainy days, insect repellent, sun protection, flashlight, bathing suit, notebook/journal, and pen.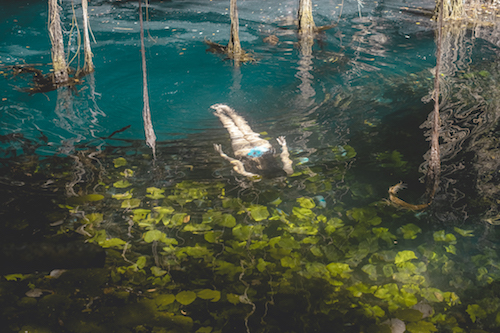 An unforgettable experience awaits you in the Riviera Maya!