7 days and 6 nights in the mystical Mexican Riviera Maya in a retreat that includes the celebration of the most auspicious night of the year according to Yoga, Sivaratri.
Saturday, February 26 to Friday, March 4
Traditionally it is said that if there were only one night to do spiritual practice, this night, the great night of Siva, would be the one that would bring more auspices. On this holiday millions of people around the world come together to honor this divine aspect that symbolizes transformation, discipline, simplicity, discernment, and the protector of nature. This year 2022, the night falls on March 1, and here in the Riviera Maya, we will be happy to welcome you to celebrate it.
Yoga, meditation, mantras, hymns, workshops, and rituals are the essential component of this deep immersion, using the energy that is revealed during these days of the retreat, we are going to soak up the teachings of Shiva, and all the magic and teachings behind his symbolism.
Withdrawing from the everyday world, slowing down the revolutions of life, and engaging in practices that nurture the spirit is a necessity of the soul. And we want to provide you with a safe space that has been delicately planned so that you feel like you recharge physically, mentally, and spiritually.
We are intended to give all the tools of Yoga, meditation, and Ayurveda to control the negative tendencies of the mind that prevent us from connecting with the fullness of our existence. Transform yourself by immersing in the paths of yoga and meditation with study and daily practices, all while having enough free time to relax and recharge your internal batteries. Discover the Mexican Riviera Maya and its essential spiritual heritage. Join us to visit a private mystical cenote in a natural sanctuary and let your heart expand in a sacred Mayan pyramid.
A retreat designed to invoke the most sublime and sacred aspects of life, to favor our body with detoxification of the system and our mind of its heavy qualities!
✓ Participate in an iconic and sacred festival for Yogis
✓ Spend the night awake with rituals, mantras, and celebrations and renew your most subtle pranas
✓ Notice tangible changes in your life with daily Yoga and Meditation
✓ The green of the jungle and its silence and the turquoise of the waters and their softness will leave you healthy and renewed
✓ Contemplate and explore the sacred land and culture of the Mayans in a unique and heartfelt way
✓ Immerse yourself in a traditional Mayan ceremony, Temazcal, which symbolizes a rebirth
---
What is a Yoga retreat?
A yoga retreat is a temporary personal and intimate time from daily life distractions to deepen into the different aspects of the practice and to purposefully offer adequate conditions to promote a connection with nature and oneself.
---
Who can participate in the retreat?
No experience is required. All levels are welcome!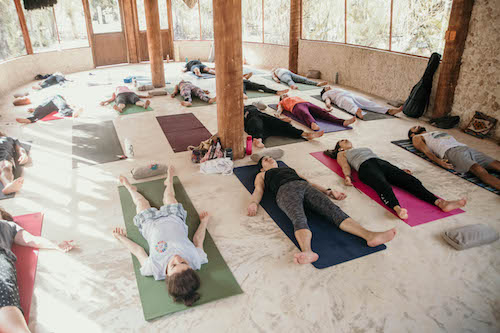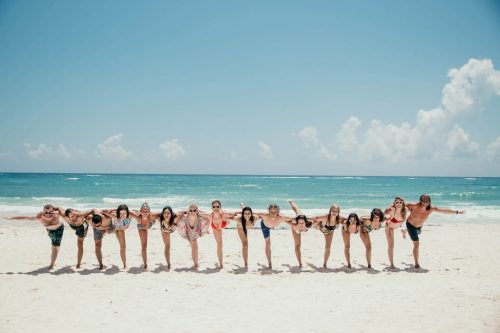 ---
Why should you come to Mahasivaratri?
✓ Because it is the perfect opportunity to respond to the call of your soul, to retire for a time in solitude, calming the mind and recharging the internal batteries.
✓ Because it is a unique opportunity to share and celebrate life with others through this powerful night.
✓ Because through the retreat, we will make a conscious pilgrimage through these sacred Mayan lands, which carry powerful ancestral energy.
✓ Because you know that you have always longed for spiritual rebirth, and fill yourself with new tools for a more awakened life.
✓ Because you are grateful to live and feel the need to honor it with a special ceremony.
✓ Because you want yoga, mantras, meditation, and healthy eating to be your medicine.
✓ Because you want to connect with beings who share similar virtues.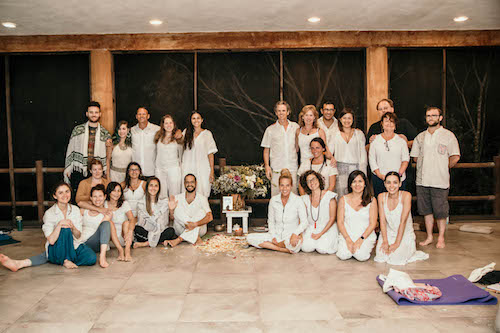 ---
What is included?
Full immersion in the retreat with classes, workshops, and daily practices
1-2 daily yoga classes (We recommend taking at least 1, ideally both)
1-2 daily Satsang sessions (with meditation, mantra chanting, and spiritual teachings).
1 silent walk meditation.
A visit to a sacred Mayan pyramid with a sunrise meditation.
A visit and meditation to a secret and hidden mystic cenote.
Pilgrimage to the Caribbean sea.
1 Temazcal session (Traditional Mayan sweatlodge).
6 nights with accommodation, private rooms with bathroom.
Local, healthy, and delicious plant-based meals.
Use of all stay amenities and unlimited use of the private cenote of the property where the retreat will be hosted.
*Optional services will be offered like holistic therapy sessions and massages; snorkel excursions or cenote diving 
*Airfare tickets are not included 
*Airport shuttle is not included. Let us know if you would like to help with your transportation arrangements from and to the airport.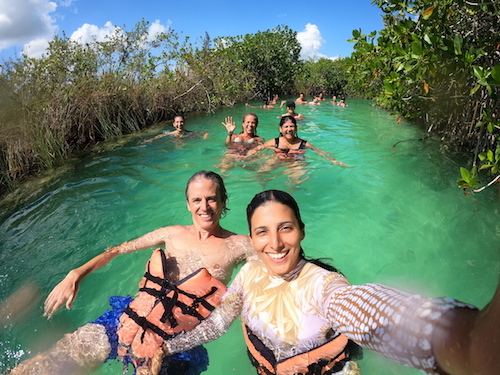 ---
Schedule**
Saturday 26th
2:00pm: Check-in
4:30pm: Yoga
6.00pm: Dinner
7:30 pm: Satsang – Retreat Opening
Sunday 27th to Thursday 3rd
5.30am: Guiaded Pranayama (Optional)
12.00m: Conference or Workshop
2.00pm: Break: Recharge & amp; Relax
4.30pm: Optional Yoga class
6.00pm: Dinner
7:30 pm: Satsang: meditation, mantras and spiritual teaching.
*On Tuesday 1st there will be the celebration of the Great Night of Siva, we will happily stay up at night in celebration (You can sleep when you want, nobody is obliged)
*On these days there will be 2 very special pilgrimages and on those two days, the schedule will change.
Friday 4th
6:00 am: Satsang: Special closing ceremony
8:00 am: Yoga
10:00 am: Brunch 
12:00 m: Check out 
*Subject to change.
*The daily activity schedule will be announced daily during morning Satsang.
*Be aware of the check-in and check-out times before you buy your airfare tickets. (The location is 1.5 hrs away from Cancun International Airport)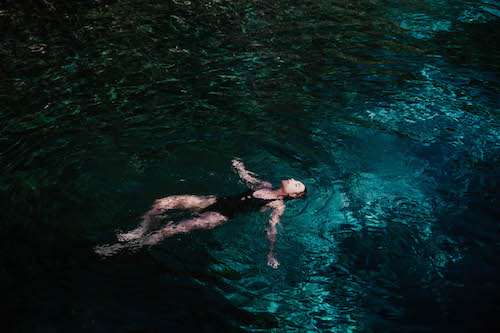 ---
Location and accommodations
Our retreat will be held at the wonderful Posada de Agua y Fuego, a precious place in the heart of a dense and sacred jungle. This place is a hidden gem in the Chemuyil region, an ideal place to connect with your body, mind, spirit, and nature. At this place you can find:
Yoga room with the Mayan jungle view 
Outside pools
Private cenote 
Temazcal
Comfortable rooms with AC
Relaxing areas
Massage area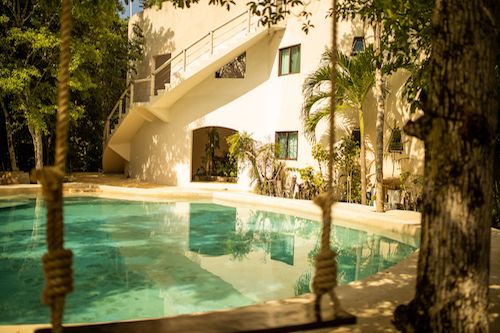 ---
Shared accommodation (2 people) or single
For bio-security reasons, the maximum occupation for accommodation will be 2 people per room. Rooms are beautiful, spacious, bright, and comfortable. Each room has its own bathroom. Couples will be accommodated in the same room. If you come by yourself, you will share the room with a person of the same gender.
You can also choose to have private accommodation.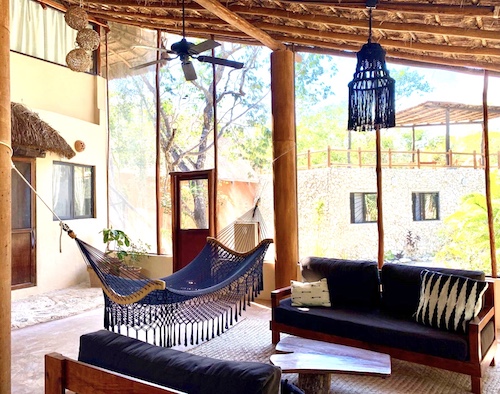 ---
Cost
Double (shared) room: USD 1.550 per person
The price of a shared room with a private bathroom is USD 1.550 with everything included. A USD 500 deposit is required. The rest of the amount will be paid one week before you arrive at the retreat (via PayPal)
Early Bird Price: Before January 31st 2022: $1.250 USD per person.
If you would like to participate, please make your deposit and send the payment receipt to info@satyarupa.yoga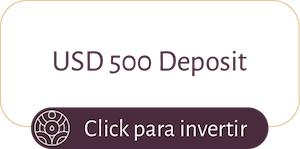 ---
Single room: USD 1.850 per person
The price of an individual room with a private bathroom is USD 1.850 with everything included. A USD 500 deposit is required. The rest of the amount will be paid one week before you arrive at the retreat (via PayPal) 
Early Bird Price: Before January 31st 2022: $1.550 USD per person.
If you would like to participate, please make your deposit and send the payment receipt to info@satyarupa.yoga
If you have doubts please contact us through this WhatsApp number +529848061579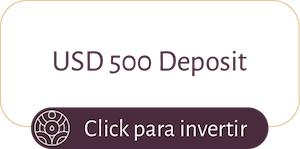 ---
Cancellation policy
The deposit is non-refundable.
The payments are not cumulative nor transferable.
In case of a mandated lockdown from the Mexican authorities, the retreat will be postponed.
---
Observations
Airfare and land transportation to the retreat is not included.
We will start with a yoga practice at 4:30 pm on the arrival day.
We will finish at noon on the last day. 
The retreat is in English and Spanish 🙂 CUTE!
While in the retreat, guests are invited to join and follow a yogic diet (no alcoholic drinks, no meat, no smoking).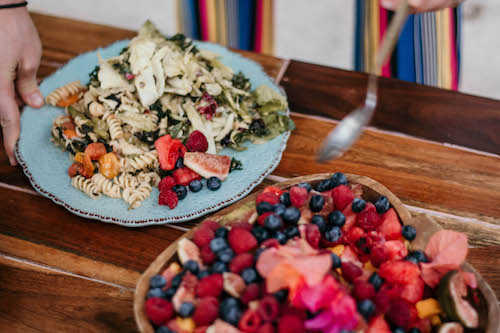 ---
Yoga Retreat Hosts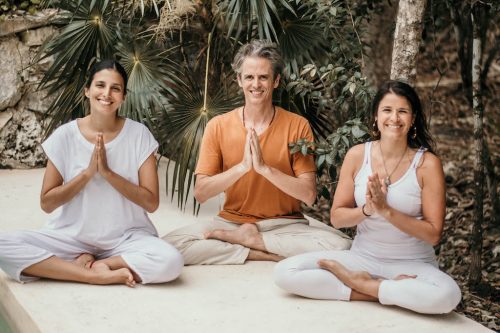 Satyadev y Satyabhama, two long-time yoga practitioners. Furthermore, we are teachers dedicated to sharing the received teachings with all humans around the world. We have a personal commitment to help enlight each person's light, to allow ourselves an evolution to a world vibrating with the highest frequency of light and infinite love.
We dedicate our lives to connecting hearts and sharing the valuable teachings that have given us a lot of internal enrichment. We want to accompany you on your spiritual path! We pray that by applying what has been learned, you can achieve your maximum potential in this same birth.
We will love to welcome you to our beloved Mexican land ♡
Nickole Gonzales, from Ayurvedic and Yogic classes with Nickole Thornton Gonzales will be co-hosting this Yoga, Ayurveda, Meditation Retreat in Mexico. She will be teaching some Ayurveda Classes and providing massage and Ayurvedic Consultations.
Nickole is a Certified Ayurvedic Practitioner for eighteen years, Certified Massage Therapist, Yoga Instructor, and Ritual Facilitator. She graduated under the teachings of Dr. Vasant Lad at The Ayurvedic Institute where she was employed in the Panchakarma department for eight years.
Looking forward to seeing you soon!!
---
What are the existent security measures for Covid-19?
Participation in this retreat is completely voluntary, and we will like to invite you if you only feel comfortable and safe to travel.
The Riviera Maya has never closed its borders, but all biosecurity measures have been applied to travelers and tourists.
There are local awareness and lots of protection in the area and we can assure you that keeping you healthy and safe is our priority.
It is mandatory (Lovingly requested) that all attendees present a negative Covid test (It can be antigens). So all the participants can feel calm and safe to be together without the mask.
Because of this, we will take care of ourselves during all moments:
Periodic temperature checks.
The space is equipped with all the capacity to keep the space clean, sanitized, and safe.
Space between mats of 1.5 meters.
Access to antibacterial gel 24/7.
Face cover use during land travel.
Respect, love, and consciousness among participants.
Most importantly: an abundance of fresh air and a healing nature.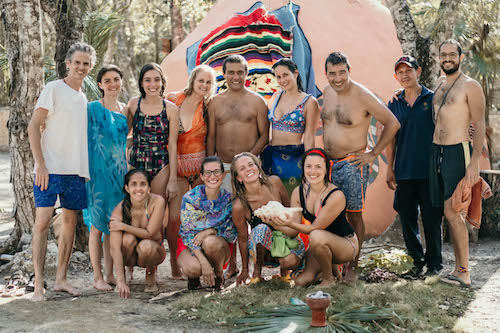 ---
What do I need to bring?
Comfortable clothes, yoga mat, meditation cushion, meditation blanket, personal hygiene items, clothes for warm weather and cool nights, clothes for rainy days, insect repellent, sun protection, flashlight, bathing suit, notebook/journal, and pen.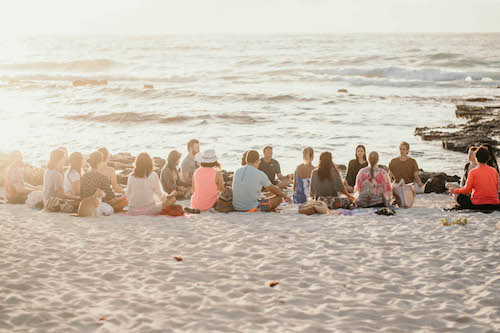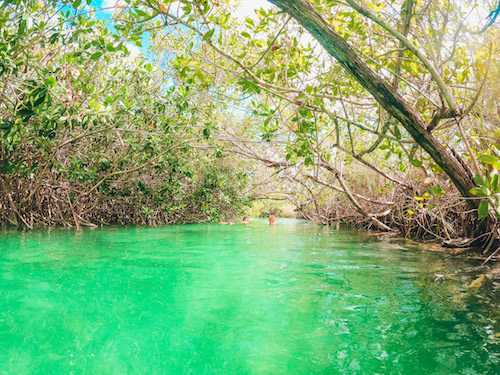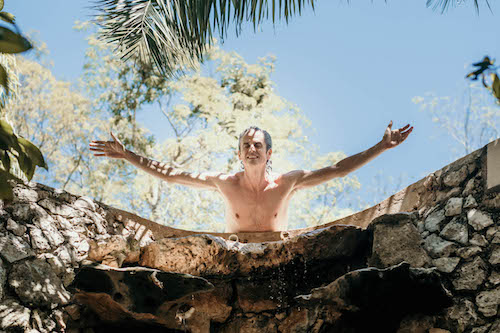 AN UNFORGETTABLE EXPERIENCE AWAITS YOU IN THE RIVIERA MAYA!
OM TAT SAT